Are you interested in a career working with dogs and cats?
Train to be a Pet Groomer at Florida's Pet and Show Grooming School.
Let experience be your guide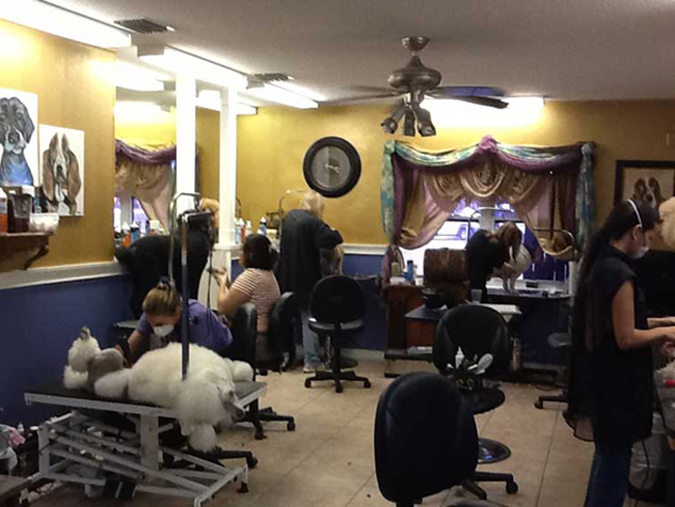 Are you interested in an exciting new career working with dogs?
Train to be a pet groomer at sunny Florida's premiere pet and show grooming school. Let experience of 37+ years be your guide.
Classes begin each month. Most of our students are placed in jobs before they graduate.
Job opportunities for pet groomers include working in a grooming salon, pet shop or kennel and veterinary offices. A career in pet grooming is also beneficial to those of you who desire to work your own hours or plan to open a business in the future - to be in control of your future.
In an increasingly growing industry as pet grooming, your education is first and foremost. A complete education in the grooming field will allow you to earn a higher salary. Our emphasis is educating you to groom many breeds in all situations.
In just 16 weeks, learn everything you need to know about all breed grooming and successful salon operations, rare and AKC breeds, pet CPR and first aid, canine form and function, anatomy, breeding better dogs, segments on show grooming included. Also included, spend a day with our Veterinarian, Canine Masseuse, Dog show judges and certified Veterinary Technician. Sixteen mini academic programs included with full program. 8 and 12 week programs also available.
Demonstrate your intermediate skills and sign up for advanced training. Advanced program available to those wanting to take pet grooming to the highest level of diploma.
A program that takes you beyond grooming to a complete education in canines and cats too!
With nearly 4 decades of experience in this industry we have devised a program that has proven to be effective.
All levels of dog grooming training from Basic to Advanced. Academy of Animal Arts, Inc. has what you need to become a success, offering you:
....a program beyond grooming.
Financial assistance to those who qualify including but not limited to:
The Academy of Animal Arts Inc is a registered and certified vendor for Vocational Rehabilitation
Approved for Veteran Training
Easy qualifying school loans!
"I am so grateful that I was able to study under Teri at the Academy of Animal Arts. She is a master at grooming, and so amazingly good with animals of all temperaments and sizes. Her standards are high, the school is kept immaculately clean, and even today, years later, I hear her words in my head while working on a dog... the little details that take a groom from good to excellent. Learning show grooming, anatomy and general best practices will always be beneficial. I went on to teach prep work for a while at the school, and enjoyed that, as well."
Gia Coppi, Graduate, Academy of Animal Arts
A private vocational school in Pinellas County, Florida
Licensed by the Commission for Independent Education #2118
Department of Education
Tallahassee, Florida
Teri Bialek, Director
Academy of Animal Arts, Inc.
1258 West Bay Drive
Suite E
Largo, FL. 33770
Toll free: 866- 517-9546
fax: 727-517-1586
email: showgroomschool@aol.com
Grooming Services offered at the school
727-596-CLIP(2547)
Tuesday, Wednesday and Thursday
Special! New client First visit: small dog groom-$25; medium-$30; and large $40-50
Serving Pinellas County for 35 years.
Must have proof of current vaccines.